Latest News
Want to know what's going on with Pauly T? Then this is the place you need to be!
New Live Shows Added with Burning Moonlight!!!
After almost a year off after the tragic suicide of my friend and musical partner, Highline bassist Kirk I am back performing live with my new Binghamton based classic rock band Burning Moonlight.

Check out the LIVE SHOWS page for show dates. I look forward to seeing you at our shows!
Visit http://burningmoonlightband.com to learn more about Binghamton's hottest new classic rock band and be sure to sign up for our Friends Club!
Suicide Prevention Organization Raises Money for MHAST
In 2014 I lost my close friend and bassist Kirk Goodman to suicide. Another friend suggested I do something to help others avoid similar tragedies.In response I started Rock Against Suicide to bring awareness to suicide prevention resources in the triple cities and to raise money for the Mental Health Association of the Southern Tier's suicide prevention programs.
Guitar Feast - a Smorgasbord For Your Ears!!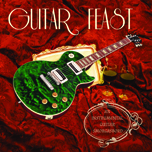 What do you get when you bring together 15 talented, international guitarists? Guitar Feast - An Instrumental Guitar Smorgasbord!!! Grab your digital download instantly now by clicking here!!
A Rocking Christmas - Awesome Listening Any Time of The Year!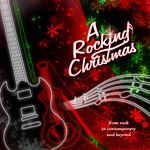 A Rocking Christmas is a compilation featuring the work of 11 talented international musicians playing original compositions alongside new, modern arrangements of classic Christmas songs. There's literally something for everyone! Grab your digital download instantly now by clicking here!!
New Live Radio Interview Added
I recently did a live on air interview with DJ Kephas at IMW. Listen to it Here
The Audio Chocolate CD is now shipping !!!
Listen to clips and grab yourself a copy of my new CD - Check it out Here!
50 Smoking Licks For Rock and Metal Lead Guitar - Now Available!!!
New!!! 50 Smoking Licks for Rock and Metal Lead Guitar: this awesome resource for guitarists designed in partnership with Nick Layton is now available at Shred Academy!

Guest Solo on Nick Layton's Storming The Castle CD!!!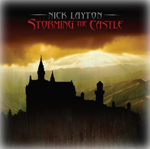 I played a guest guitar solo on the song "Deceiver" on Nick Layton's "Storming the Castle" CD and also contributed bass guitar to the record. Nick is a great guitarist and songwriter and fans of guitarists such as Michael Schenker, Vinnie Moore, Criss Oliva, Malmsteen, etc. will absolutely love his CD.

Click the CD cover to go to Nick's site and listen to audio clips.
Endorsed by AMT Pedals!!!
I am now a proud endorser of AMT Pedals. Il was introduced to the AMT Distortion Station (DT-2) at Sorcery Studios in Chicago while recording a guest solo for an upcoming Riff Sorce CD.
I have never heard so many great rocking tones coming out of a single pedal!
Visit

for more info on all of their fine products.
Added improvisation Video to Video Page
Check out a video of me improvising over a backing track of Joe Satiriani's Love Thing on the Video page.
Monthly newsletter - a new feature !
Sign up for my newsletter to receive exclusive lessons and links to valuable resources for musicians.
A new product for guitar teachers !!
A great product with partner Tom Hess - The Guitar Teacher's Toolkit now available!!!
Guitar Player review...
My song Frozen Heart from the 2007 CD "Chronicles:City Of Sound: received a positive review from editor Michael Molenda in the August 2007 issue of Guitar Player Magazine.
"Tauterouff does everything right on this rather conventional, yet buoyant and melodic instrumental. His tone is fat and present, he makes judicious use of harmony lines to keep things interesting, and he holds back on the jamming until the end. It's a nice lesson in restraint, and it's also tasty as hell." - Michael Molenda